The Iceland born Katrin Fridriks with current residency in Paris is strongly influenced by two settings: the vast geography of her origin as well as plain arithmetic of sound – preferably that of minimal electronic music. Her paintings reflect harmonies of both and take it to a level of perfect, though casual order. Thus, her works reach viewers at the same core, which is triggered by those magical moments of perceiving chaos as condensation of all forthcomings and crystal of infinity.
Surely, her gestures can be compared with Jackson Pollocks Drippings, but are just much lighter in their astonishingly even proportions – and, in contrast, clearly female and undeningly smooth. Call it natural or eternal, as Katrin Fridriks herself likes to grasp her workflow and intuitive references. Anyways, the paintings carry a magic touch and great virtuosity.
For her exhibition at Galerie Oel-Früh she shows works of the series 'Little Prince' and 'Fridriks Monsters'. On top, she produces exclusive Oel-Früh-envelopes for her cycle 'Kilowatt'.
Whereas those letters show an extract of Fridriks' cosmic arrangements, the 'Little Prince' series reflects a larger scale. It covers Fridriks' most poetic works and relates to terms as 'flying' and 'breathing'.
The 'Monsters' series, as a further enhancement, however, is more calculated and determined. By its complex arrangements it is expressing harmony not only as a natural ambition but a very human one, too. And as we humans tend to, it strives to manufacture magic through (personal) technique. And, oh wonder, it succeeds.
"Cosmic and telluric, the fully controlled, fluid flow of Japanese calligraphy, a geyser erupting with scattered volcanic emotions, compulsive drippings, electrified by underground impulses, ebbs and flows experienced deep in the very marrow of the bones, throbbing with primordial sources of
energy.
Such is the effect of the breadth of the works of Katrin Fridriks. A vehemence in an entanglement of ice and fire revealing all the complexity of inter-mingled, entwined, repressed emotions together with the cheerful lyricism of these Star Eaters questioning the world and its current fetishist cosmogonies with an eagle eye and a wondrous smileŠlike some Little Prince fresh from the Big Bang to herald new decipherments."
KL¹ XT 723, 2007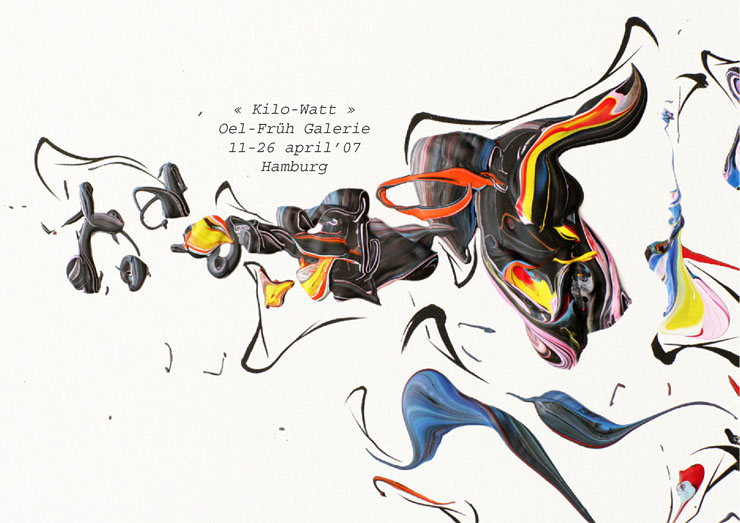 Katrin Fridriks – KILOWATT - Lettres pour Oel-Früh
Ausstellung: So. 15. April - Do. 26. April 2007